Mark as New

Bookmark Message

Subscribe to Message

Mute Message
I'm planning an upgrade to the latest version of Splunk Enterprise. What is the high-level order of operations? Is there an intermediate step required if I'm on Splunk 6.5 or earlier? Where do forwarders and premium apps fit in? What docs do I need to refer to help me plan and execute my upgrade?
1 Solution
Mark as New

Bookmark Message

Subscribe to Message

Mute Message
Glad you asked! We've created a high-level process road map for upgrading Splunk Enterprise, forwarders and apps. This process works for all Splunk Validated Architectures - just skip the components that aren't relevant to your deployment.
This diagram is for planning purposes only. It is not a comprehensive upgrade plan, and does not include technical details for upgrading. Please refer to the linked documentation for the version of Splunk you're upgrading to before you proceed with an upgrade.
Remember these operational best practices for upgrading:
Create a detailed upgrade plan
Develop a timeline to prepare for upgrade, and a schedule for your live upgrade window
Identify everyone in your org who is affected by the upgrade
Communicate your timeline to everyone who's affected by the upgrade. For communication plan best practices, see Communication best practices for a Splunk deployment in the Splunk Success Framework Handbook.
(click to enlarge and download as pdf)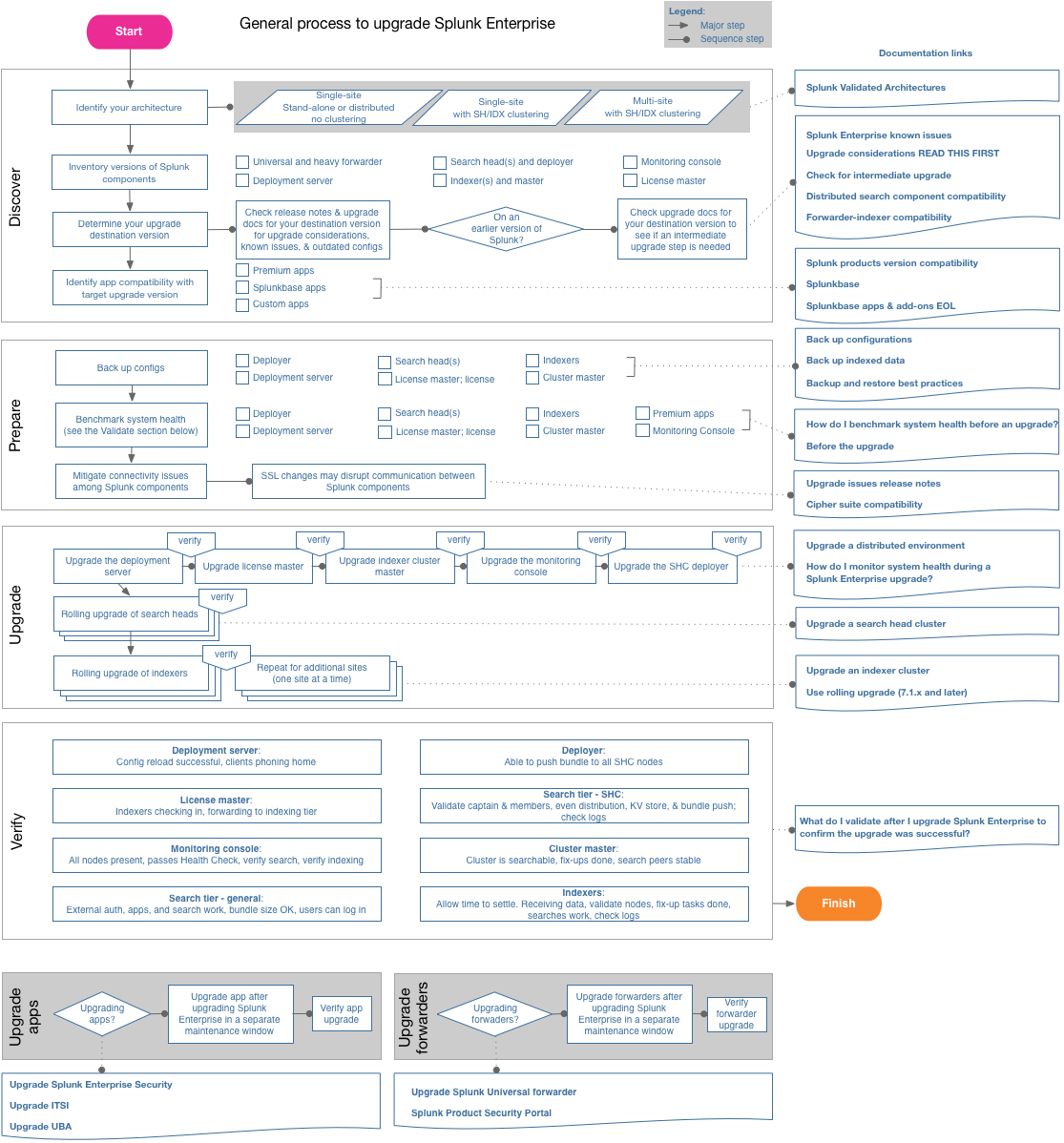 ---
What's your experience? We'd like to hear from you. We'll be updating this graphic as we gather more input.