Mark as New

Bookmark Message

Subscribe to Message

Mute Message
Hi
I have downloaded Splunk Enterprise 7.1.2 version and installed in my machine but I'm getting an error during installation.
Here I have attached information about my system and error wizard. Please let me know why I'm facing this problem? anything problem with my system Requirements need to modify anything?
System Information:


Error Wizard: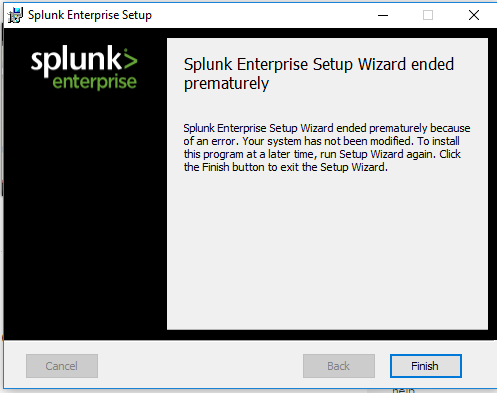 1 Solution
Mark as New

Bookmark Message

Subscribe to Message

Mute Message
@Selvam09, do you have Admin Rights on the system you are trying to install Splunk? Are you running the installation with "Run as administrator" option? Do you have any software running on your machine which may bring down privilege/elevated right?
To confirm can you run the command prompt as administrator and invoke Splunk Installation from command prompt running under admin mode?
Please refer to one of my older answer for the same: https://answers.splunk.com/answers/560682/failed-installationupgrade-of-splunk-enterprise-on.html
____________________________________________
| makeresults | eval message= "Happy Splunking!!!"